It's time for visibility beyond gender.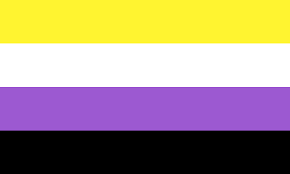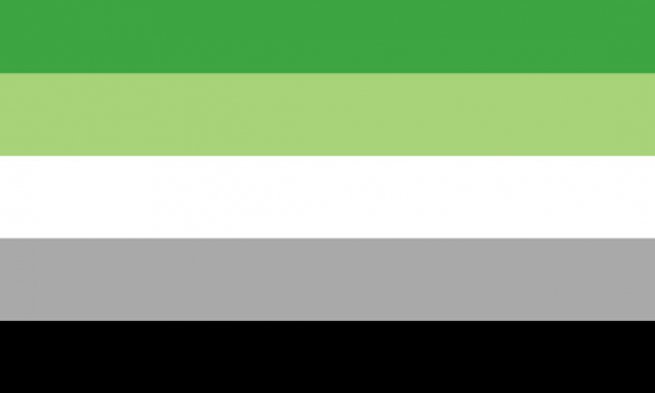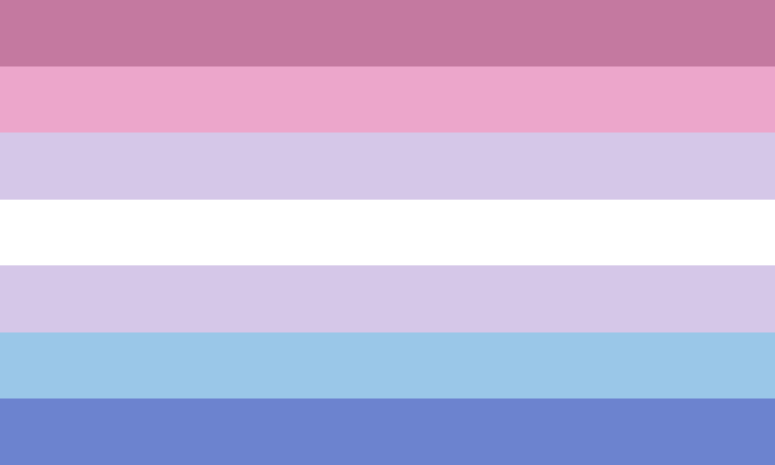 enby (plural enbies)
(slang, neologism) A person who is non-binary; that is, a person whose gender identity is not strictly male nor female.


Bethan Lovatt (they/them) and Matthew Hallas (they/them) at Bourne Free pride, July 2019 – an event at which everyone is welcome, and non-binary people often feel safe and supported. Photo by Amanda Hemmings
The Binary from Birth
We are assigned 'male' or 'female' at birth.
"It's a boy!"

"It's a girl!"
We have gender reveal parties before we're even born, and this is passing on expectation and normative behaviour based on societal and historical factors.
But what about those who do not feel like they conform to the gender they were assigned? For example, somebody who is AFAB (Assigned Female At Birth) may be, by standard, expected to wear dresses, to start wearing make up at a certain age, and to act in a 'ladylike' way, and, perhaps more traditionally, take on the maternal, stay-at-home role.
For people who are AMAB (Assigned Male at Birth), it would be, in Western society especially, expected to dress casually or in suits, be protective of women, exhibit little to no emotion, and to be the money maker.
From an early age, our paths are set out for us based on gender; from our hobbies and interests, to our love interests when we hit adolescence. People are taught who to be, and how to look, instead of being given freedom of choice and the chance to experiment to find who they truly are. Those who do that, are mocked, sometimes even by family, for having 'phases' (which is a completely valid thing to do at any age!)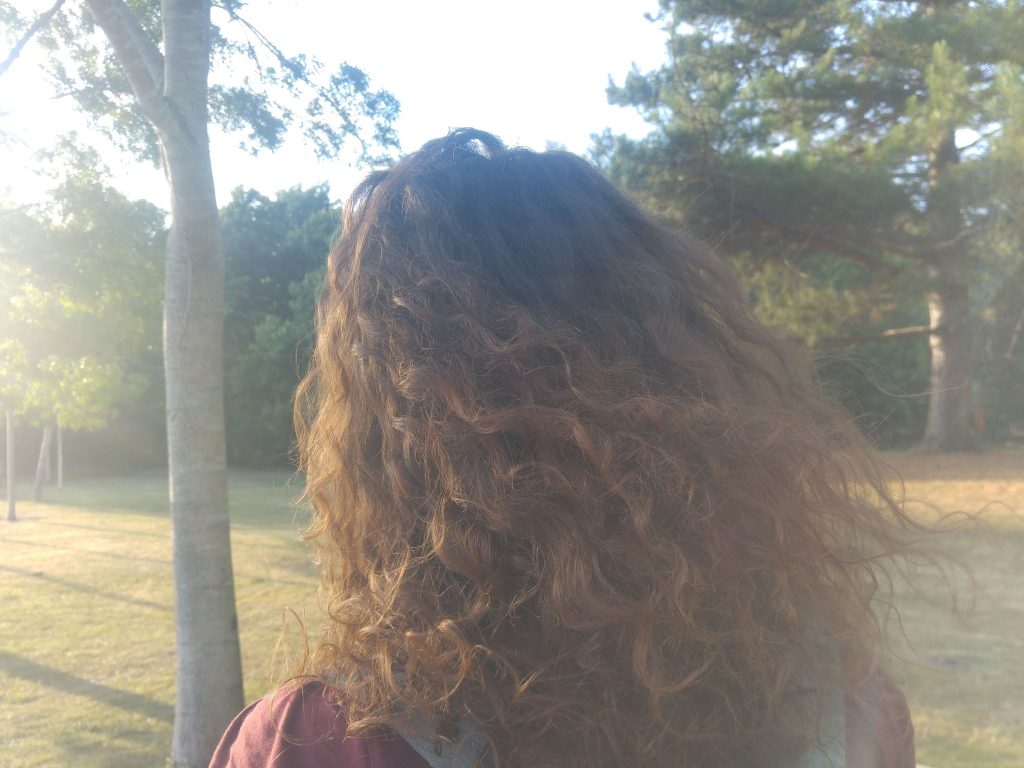 It has even been seen as something of a mental illness, or a disease. As Saltzburg (2009) stated in her journal on Co-Authoring Gender-Queer Youth Identities: DiscursiveTellings and Retellings, although any variance in gender assignment in the early years of childhood is interpreted as 'normative developmental exploration', any action against the binary is regarded in such a way as this: "when signs of gender identity in a child or adolescent seem persistently incongruent with the biologically assigned sex and customary related characteristics and social roles, these differences are viewed as medical pathology" (Saltzburg & Davis, 2009)
The study also goes on to talk about 'inadequate mental health resources' for trans and non-binary people, partially owing to lack of understanding and involvement by families and their communities. This, on top of gender dysphoria which many non-cisgender folk experience, partnered with the lack of visibility and representation of non-gender conforming individuals in the media and within the general public (official documents, public conveniences, non-inclusive social events, clothes shops, the list really is endless); is it really surprising that two in five young trans people try to take their own life? (Stonewall School Report 2017)
I've heard a lot of cisnormative things in my time; or, worded more simply; things that reinforce the gender construct as the only way to be, and push anything that is 'other' out of existence, out of sight, out of mind. I used to work in a department store in my hometown in the tiny county of Rutland. I didn't used to be so well-researched and educated on gender stereotypes and expectations, but I still always thought what I experienced was horrific – from the moment I witnessed it. A young child who was male, perhaps two or three, simply wanted a pink ball. We had both blue and pink balls. I watched as his mother took the pink ball from him, and gave him the blue ball. I watched the process of taking and putting back between the two for a good five minutes, until, exasperated, she yelled in his face 'YOU ARE NOT A GIRL. PINK IS FOR GIRLS. YOU ARE A BOY.' until tears filled his eyes and they left the shop.
Although I'm talking about gendered items and more specifically, colour, here, it goes so much deeper than that. The gendering of certain things, like make up, or liking sport, clothing, or colour, is a way of categorising people and making them 'fit'. Sure, it might seem like the easy thing to do; but we're a sea of complexities and individuality; of course there are going to be blurred lines and people are going to like different things and act beyond the gender norms and expectations they were assigned at birth.
Now, imagine if this boy did not feel like a boy (even though male-identifying people can like any colour they want) and wanted to try more 'feminine' things as he got older. Imagine if he felt like neither gender, or both, or maybe it was always changing. Now, imagine what this person would think about themselves because they were raised to believe there were only two genders. Imagine feeling so wrong, so invisible, like they had to repress and hide who they were for so long, especially to their mother.
But what about science?
Kids are taught biology in schools; but are they taught that sex and gender are not the same thing? How is it that so many of us are unaware or uneducated on the existence of non-binary people? Much of the argument against their existence is: 'but it goes against science'.
Something that Sam Dylan Finch, advocate and founder of Let's Queer Things Up, pointed out over social media in 2018 was that social science is something which holds culture, language, human progression and society. He says 'If you want to talk about the human experience, your understanding is woefully incomplete without social science.'
As a Anthropology graduate, he also goes on to talk about how gender has always been fluid, and that human beings are 'biopsychosocial creatures' – so simply speaking, we are not just the genitals we were born with; we are much more than that.
Sam also talks about the fact that science should not be used as some sort of cop-out argument or blanket defence for denying the existence of non-binary/trans people.
It's not "science" to deny someone the ability to authentically and joyfully exist in this world. It's cruelty. That's something you have to reconcile for yourself — whether or not this is an accurate reflection of the person you want to be in this world.

— Sam Dylan Finch 🍓 (@samdylanfinch) December 24, 2018
Another common misconception is that non-binary individuals are a product of modernization; of a younger rebellious generation; of protest and non-conformity. But it is not just a teenage rejection of norms, and to generalize and trivialise in that way can be incredibly harmful. Through this piece, I'll be looking at the change in the way gender was perceived and expressed over time and through different cultures. But for now, we'll start with a scholarly look at a study.
Sue Rankin and Genny Beemyn conducted this study of gender diverse youth in 2012, and in comparing experiences of trans and gender non-conforming individuals, they uncovered eight 'milestones' on their journey to realising and accepting their identity. These were:
1. Feeling gender different from a young age.

2. Seeking to present as a gender different from the one assigned to them at birth.

3. Repressing or hiding their identity in the face of hostility and/or isolation.

4. Initially misidentifying their identity

5. Learning about and meeting other trans people

6. Changing their outward appearance in order to look more like their self-image

7. Establishing new relationships with family, partners, friends and coworkers

8. Developing a sense of wholeness within a gender normative society.

S Rankin, G Beemyn, Beyond A Binary: The Lives of Gender-Nonconforming Youth – About Campus, 2012

It also highlighted that some milestones were less or not at all, dependant on factors such as trans individuals having more information and resources than those in previous decades.
Many of the respondents, especially those who grew up prior to the 1980s, initially did not understand their experiences or have the appropriate language to describe them, leading many to remain confused or to mischaracterise their identities.

S Rankin, G Beemyn, Beyond A Binary: The Lives of Gender-Nonconforming Youth – About Campus, 2012
These milestones, however, are not always exhaustive and many people can realise that they are gender non-conforming much later in life. Number 8 isn't always attainable for everybody, either, and for people like Kieran, acceptance and belonging is still an ongoing process for them.
Kieran has had a lot of experience with dysphoria and not knowing who they are. But now, they are becoming increasingly comfortable with dressing in whatever makes them happy – but 'coming out' to anyone other than their close friends is still off the cards for now.
Kieran, who is a university student, has a lot to say on the many identities under the non-binary umbrella, misconceptions on appearing stereotypically 'feminine' or 'masculine' and how to accept yourself as you are. Listen to what they have to say on the topic in this short podcast.
Online vs 'The Real World'
Some people have more first-hand experience with being out and being expressive. As Ramkin and Beemyn mentioned in their journal, people thirty or forty years ago did not have access or language to describe how they were feeling and identifying. This has now been helped, hugely, by social media groups and websites specifically aimed at creating safe spaces for trans and non-binary individuals to speak out in a non-judgemental atmosphere – which is something Sam Tollins speaks about in my interview with them.
However, it must be said that the existence of non-binary people in the world is not limited to websites like Tumblr and places where thousands of members of the community can join together from anywhere in the world; or any other digital medium, for that matter. The safety and comfort sought within these platforms is not reflected enough in real-world events; in the average day-to-day life. Riley Tribble, graduate from DMU in Leicester, says that too much is still separated by gender and there are not enough queer spaces.
Riley Tribble (they/them) who plays roller Derby (Photo by Paul Smith)
So, what is progress is being made in giving space and recognition to non-binary individuals? There are now gender-neutral bathrooms in some universities around the country, and 'Mx' is now an accepted alternative title for non-binary folk to write on governmental forms.
But what about in conversation? What about when people tell others about their identity, and receive puzzled questions and a need for an explanation?
We need education.
Watch Sam Tollins and Riley Tribble speak about their differing experiences with gender expression, and being non-binary online and in the outside world.
Riley speaks about the fact that gender is 'everywhere'; they are in a constant state of 'where am I meant to go? How do I fit?'. Excluding these people from your vocabulary, your pronoun use, and official documents is making them feel invisible within society.
Sam Tollins, who identifies as non-binary (they/them) talks about online safe spaces for trans and non-binary people. Photo by Sam Tollins
Looking the part
There are many terms which fall under the non-binary umbrella – for example, being genderfluid means that people don't feel that they have a fixed gender, and their gender expression (how they dress and present themselves) may or may not alter and differ because of this.
There are people who don't identify as non-binary but take part in rejecting traditional gender roles altogether; this could be anything from dressing in an androgynous way, or, playing a sport as a cisgender female. However, it is so important to realise that androgyny and gender expression (through clothing, hobbies, etc) is not always or necessarily the same as being and identifying as non-binary. In other words, how you express your gender how you identify are not the same thing. In some cases, though, people may feel as though they could align their physical characteristics with how they identify in order to feel more like themselves.
However, to suggest that to be a valid enby that you have to be androgynous or 'look' gender neutral is massively over-generalising and damaging because being non-binary does not have one definitive look. Therefore, assuming somebody has to look a certain way to fall out of cisgender norms is to say that somebody who has more 'feminine' or 'masculine' traits (eg. an AMAB who has masculine features, such as a beard) cannot be non-binary. The truth is, you can present in whatever way you feel most comfortable with, and this can often change.
Some of the common misconceptions I've heard about being non-binary:
It's a trend.
It's a phase.
They're just confused.
'So, you're a tomboy?' (AFAB)
'So, you're camp?' (AMAB)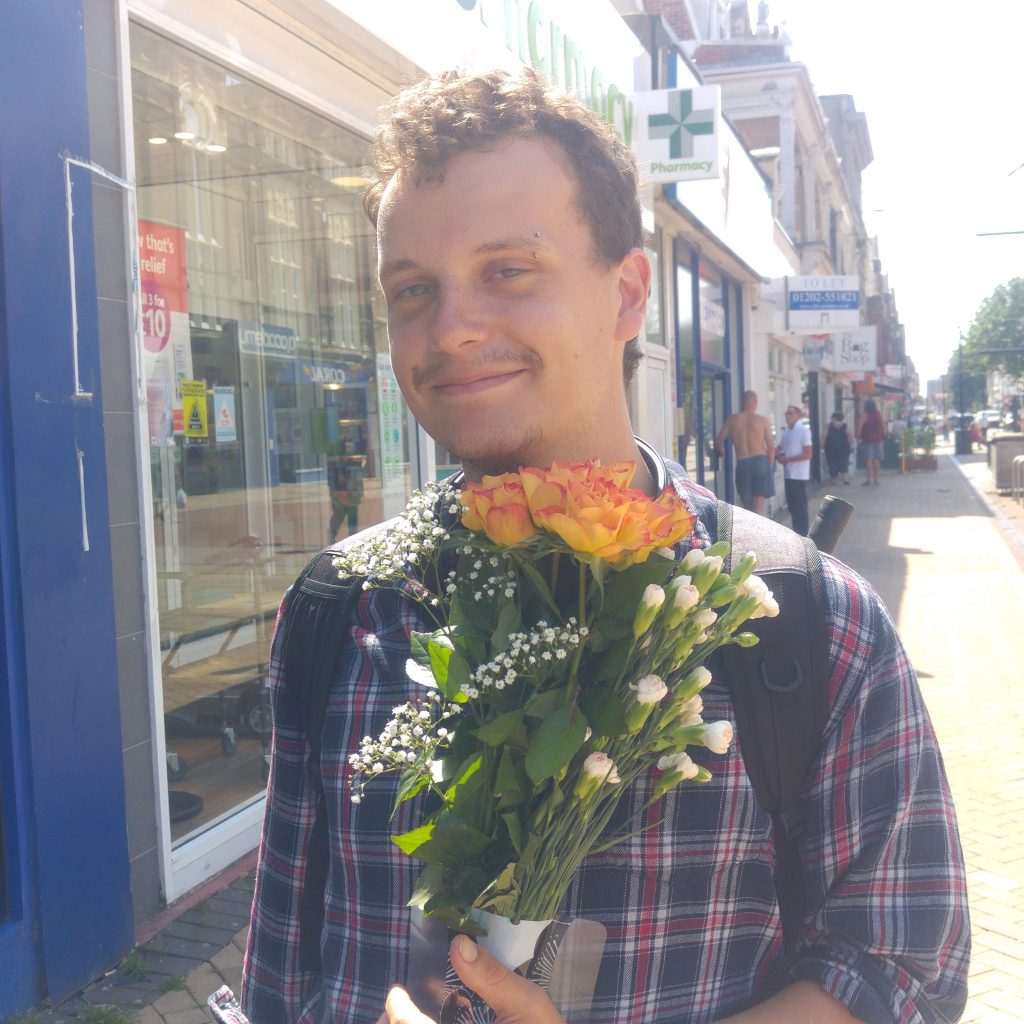 Matthew Hallas, who has used 'they' pronouns since last December, has an issue with gendered clothing and expectations. They took part in Gymnastics as an AMAB child, and was the only non-female in the group.
"It's something people thought I just shouldn't be doing," they said.
Although they also did rugby, football, and other 'masculine' sports, people seemed to focus on the 'feminine' one. They were stereotyped as a 'girl' or as 'gay'.
"Admittedly, they weren't wrong on that second part, but often it was quite disheartening for me as a young boy for me to hear.
"They didn't know anything about me apart from the fact I did gymnastics."
Matthew also talks about expectations of appearance based on gender.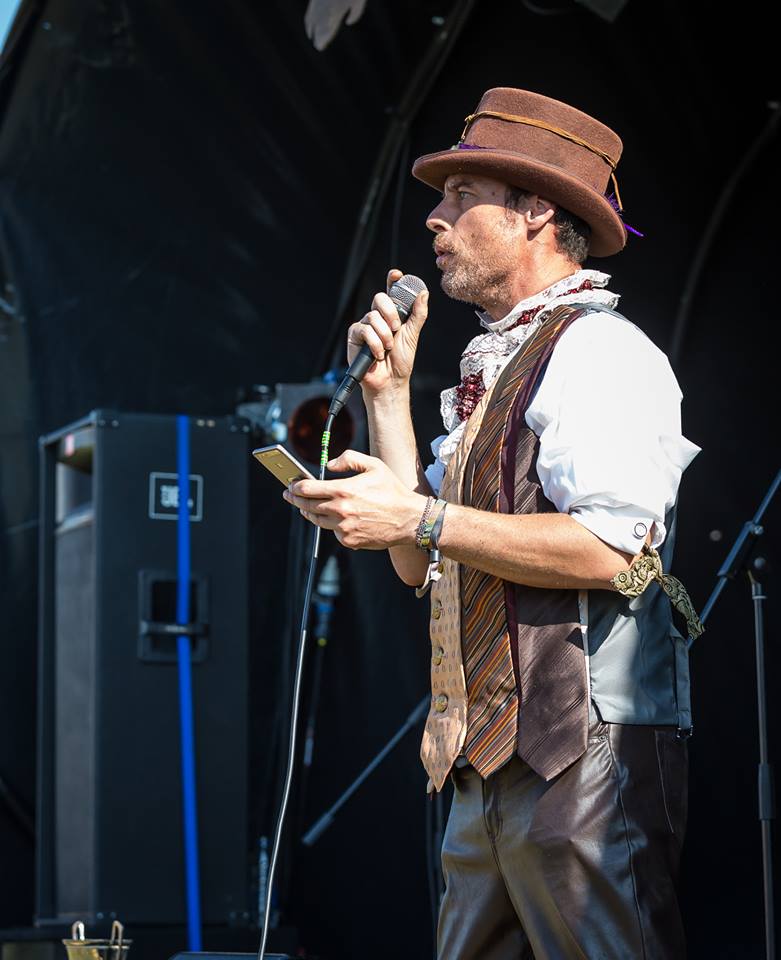 "I find the concept [of gendered clothing] outright ridiculous. The concept that you can't wear that item of clothing because it isn't designed for your gender is downright idiotic.
"It's a capitalist idea, more than anything else.
"I quite often wear skirts or dresses. I wear fishnet tights because, they are without a doubt one of the most comfortable things in existence for me.
"It's someone's own choice what they do. I love wearing make up sometimes, but other times I hate it.
"Gender itself is something that we can choose. It is a construct. There is a difference between gender and sex itself. And even then, you shouldn't have to do something based on your sex – that's not the way the world should work."
Societies, then and now: what's changing, if anything?
Society has changed. We're changing. The way we think about difference has altered significantly, especially in the last decade or so. But there are still questions we need to ask ourselves, and then wonder: how far do we still have to go to allowing non-binary individuals space to be seen and a voice to be heard?
Facebook has allowed the use of multiple genders, identities and pronouns on an individuals 'about' section (you can read more about this here) and an increasing number of states in the U.S, most recently New Hampshire, have passed a law creating a gender-neutral option for driver's licenses. But whilst there are steps in the right direction, I have concluded that this is still not reflected in the hearts and minds of our general society.
Listen to Ryan Wilson, Nathan Auger and Aaron Lowney on their individual thoughts, knowledge and experiences that come with identifying as non-binary in today's society, and a comparison to other times and different cultures.
So, what can we do?
We must challenge our presumptions when we meet new people. The world is so tied down to 'she' and 'he' pronouns that our brains are naturally wired to assume somebody who has chest hair and broader shoulders is a man and somebody with breasts and make up is a woman. It is seen as the polite thing to do, but it is, in fact, the result of deep conditioning. It may seem harmless and something people can just brush off and 'get over it'. However, upon deeper consideration, the repeated misgendering and assumption is paving the way for an unsafe world for trans and non-binary people to live in.
Even without realising, even if it's well-meaning, it is denying their existence.
A lot of people unintentionally practice enbyphobia, exorsexism, or cissexism in their lives (don't worry – I'm guilty of this too. It's almost unavoidable).
There are ways to tackle this in our everyday actions, how we speak to people when we first meet them. The change can begin with the language we use and the questions we ask. Here is a non-exhaustive list of things we could do to include enbys in the world.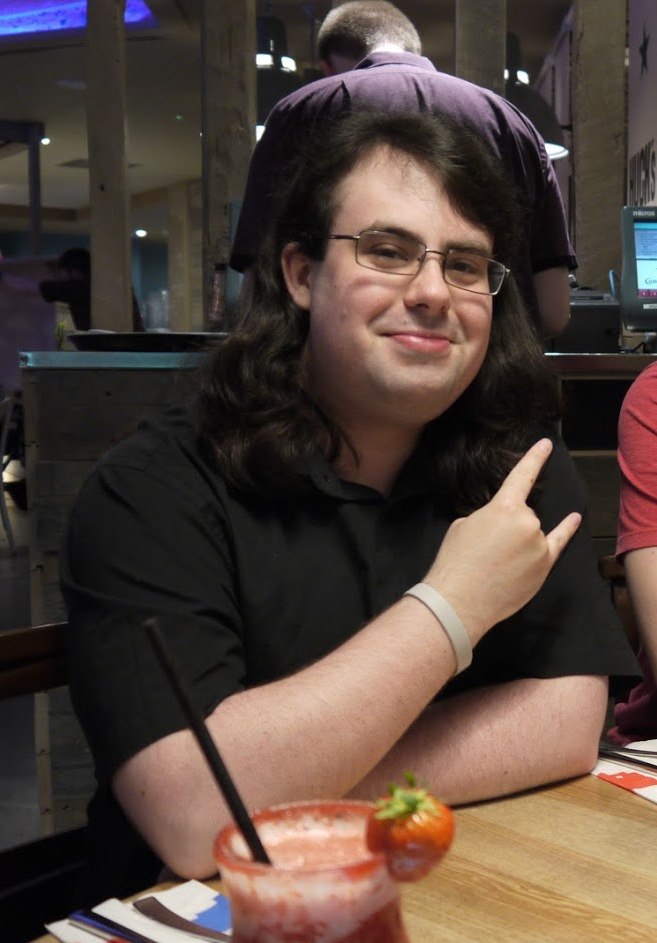 You don't need to be non-binary to use and include your pronouns in official documents. Put your pronouns in your professional emails, under your name as your sign off. You could even put it in your social media profile. It's not a strange thing to do if you identify as male or female – in fact, the act of doing this would normalise a wider use of pronouns and eradicate ignorance and assumptions.
Use their chosen name, if they have one that they prefer to use, and don't ask for their 'real' or assigned-at-birth name, or in the case of trans people, don't use their 'dead name'. How one person chooses to be named and identified is their choice and something that feels right and true to them.
Be pro-active. Ask them how they feel about certain terms of endearment. Ask them non-invasive, respectful questions. Be willing to learn, but educate yourself. Do not expect non-binary folk to tell you everything about being non-binary; it is not their job to teach you.
Bethan Lovatt, who is an Ecology and Wildlife Conservation student and Flow artist, has a lot to say about being an ally to non-binary people like themself.
Having only begun identifying as non-binary in recent months, they talk about gender expression and the way normative way in which people think, and what society and individuals can do to combat these stereotypes.
What's next for the world beyond binary?
This feature has addressed topics of misconception and denial of non-binary existence; it has shared stories of coming out and personal feelings of dysphoria; it has given hope to those still questioning their identity. It will hopefully help those who, prior to this, didn't understand a world outside of the box of gender.
It's okay to be blissfully unaware. Everyone used to be, including me. What matters is the willingness to educate and the unconditional kindness for each and every identity on Earth. Everybody is unique.
'You are you, and you are so worthy of love, no matter what your gender is'

– Kieran
I hope that this brought you some peace and reassurance. I hope that it inspired you to be a more insightful and compassionate human being with regards to identities that do not match your own. Maybe it caused you to question yourself.
Although this project is just a small drop in the vast ocean of change, it is also a step forward. Through giving these individuals a voice, it signifies acknowledgement, awareness and a desire to change our minds and our hearts.
I am so happy and grateful that you made it to the end of my project and I hope that this can be a conversation starter, an eyebrow raiser, or even just an initial spark in interest that leads to great things.
Overall, of course, the whole reason I created this for everybody was to show you that
We exist.
We deserve to be seen.